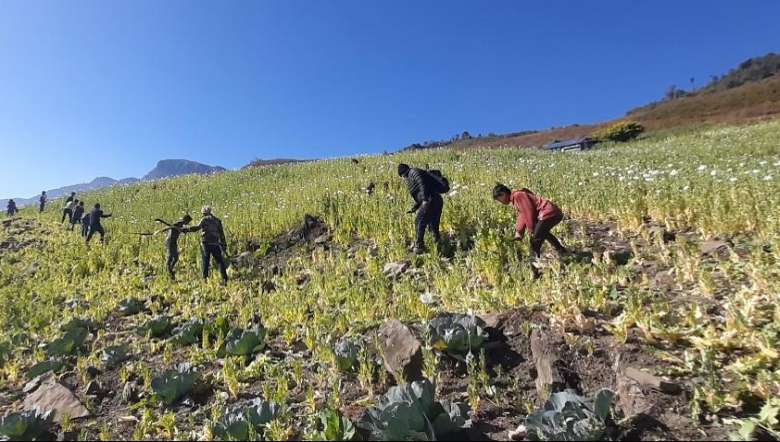 Kangpokpi, December 31 2020: ST Thangboi Kipgen, chief of Ngahmun Gunphaijang village and also the president of Kuki National Front(KNF) along with the villagers of Ngahmun Gunphaijang village under the aegis of its village authority this morning destroyed more than 6/7 acres of poppy plantation.
The Kuki National Front (KNF) is the oldest Kuki's armed insurgent outfit. KNF is believed to be the mother all armed Kuki insurgents groups in Manipur .
The village chief with its village authority destroyed such huge acres of poppy plantation voluntarily without the participation of the State police and other authorities concerned.
Despite many people in the hills opting for poppy cultivation, the villagers of Ngahmun Gunphaijang village in Kangpokpi District unanimously adopted a resolution in its annual assembly in 2019 that from 2020 poppy cultivation in Ngahmun Gunphaijang shall be stopped once and for all.
Speaking to media persons, Kamlet Kipgen, secretary Ngahmun Gunphaijang Village Authority said that the village authority came to know that some villagers are still cultivating poppies defying the resolution.
He continued that the village chief who strongly advocates the eradication of poppy cultivation in the hills and the village authority summoned the defaulters and informed them that the poppy they cultivated shall be destroyed and accordingly this morning villagers of Ngahmun destroyed it.
This will send a strong message to the public for a collective effort in eradicating drugs including poppy cultivation in the hills, he added.
He also said that stringent actions will be taken up against the defaulters while cautioning that anyone from Ngahmun village found indulging in poppy cultivation shall be dealt with accordingly.
KNF supremo ST Thangboi Kipgen, who is also the chief of Ngahmun Gunphaijang village said that poppy cultivation has been restricted by the Government as it becomes a menacing practice in the society, rendering the future of the young generation in the dark.
Thangboi Kipgen also mentioned that he had distributed potato seeds/saplings for cultivation in place of poppy to all the villagers.
However, it was very unfortunate that some of the villagers had defied the annual resolution and indulged again in poppy cultivation but we will not allow them to continue such cultivation in the land of Ngahmun, he added.
He further said that many people have presumed that the underground outfit is promoting the cultivation of poppy in the hill which is not true for the Kuki National Front as it is one of the strong ambassadors for drugs free State and it has been tireless promoting eradication of poppy cultivation in the hills.
The KNF supremo and the chief of Ngahmun Gunphaijang village also said that he decided to give a clarion call to all indulging in the cultivation of poppy as well as the general public that together poppy cultivation can be eradicated.
He also appealed to the people of Kangpokpi district to avoid indulging in such menacing practice rather opt to contribute in making the State free from drugs.