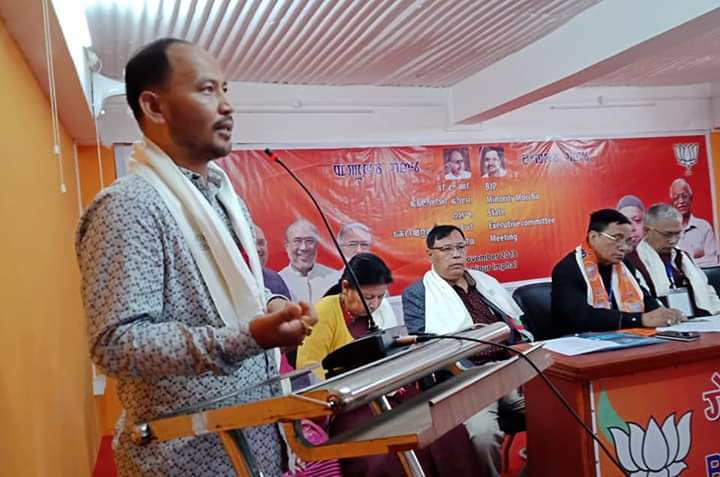 Imphal, September 21 2020:
Central Bureau of Investigation's Anti Corruption Bureau, Imphal submitted chargesheet against ruling BJP MLA of Keirao Assembly Constituency Lourembam Rameshwor and 4 other officials of the Manipur University  before the Court of Special Judge Prevention of Corruption Act, Imphal West.
The case in connection with supply of furniture items for Manipur University's International Guest house  during 2012 and 2016. The Court issued notice to all the accused including the Keirao MLA to appear before the Court on October 12 in connection with the case.
The charge sheet was filed before the Court of Special Judge (PC Act) Imphal West today afternoon against
Keirao BJP MLA Lourembam Rameshwor, then proprietor of Lourembam Enterprises;
Kshetrimayum Basanta,  K Jibankumar, then Finance Officer of Manipur University,
  Nongmeikakpam Tejendro, then store In-Charge of Manipur University and
Kshetrimayum Rustumkumar, MU employee
The chargesheet was file under section 120B/ 420/468/471/477A IPC and section 13(2) r/w 13(1) (d) of Prevention of Corruption Act 1988.
As per the charge sheet, CBI (ACB) Imphal, during the investigation of the case could establish that the accused Ksh Basanta, K Jibankumar and N Tejendro entered a criminal conspiracy with each other and also with the then proprietor of M/s Lourembam Enterprises and present Keirao AC MLA and manager of the Lourembam Enterprises, Ksh Rustum to cheat Manipur University during the period from 2012 to 2016.
It is alleged that the accused abused their official power/position as public servants and fraudulently had shown undue favour to then contractor and present Keirao AC MLA L Rameshwor in awarding the work for supply of various furniture items for International Guest House, Manipur University despite many defect/irregularities in the tender process and in furtherance of their criminal conspiracy.
Moreover, the CBI reportedly pointed out that the MU officials had falsely shown receipt of the furniture items in full quantities in the stock register on October 7, 2014 and the entire bill amount falsely claimed by M/S Lourembam Enterprise had been paid.
This is despite the fact that the fact regarding non-supply/short supply of many furniture items, which they tried to cover up as burnt down in the fire incident purportedly happened on October 3, 2016 at the recreation hall of MU and thereby caused huge wrongful loss to MU to the tune of Rs. 74,01,978 and corresponding wrongful gain to themselves to that extent, added the source.
CBI ACB Imphal in the charge sheet also prayed the Special Judge (PC Act), Imphal West to take up cognizance against the accused persons and to issue notice to all against whom the charge sheet has been submitted.
The Special Court (PC Act), Imphal West registered it as Special Trial Case 3 of 2020 and fixed October 12 for appearance of the accused and hearing of the submitted charge sheet.