Thoubal, January 24 2021: The Bharatiya Janata Party (BJP) national spokesperson and Manipur BJP in-charge Dr Sambit Patra on Sunday offered floral tributes to the statue of Paona Brajabashi at Khongjom War Memorial complex in Kheba Ching, Thoubal district.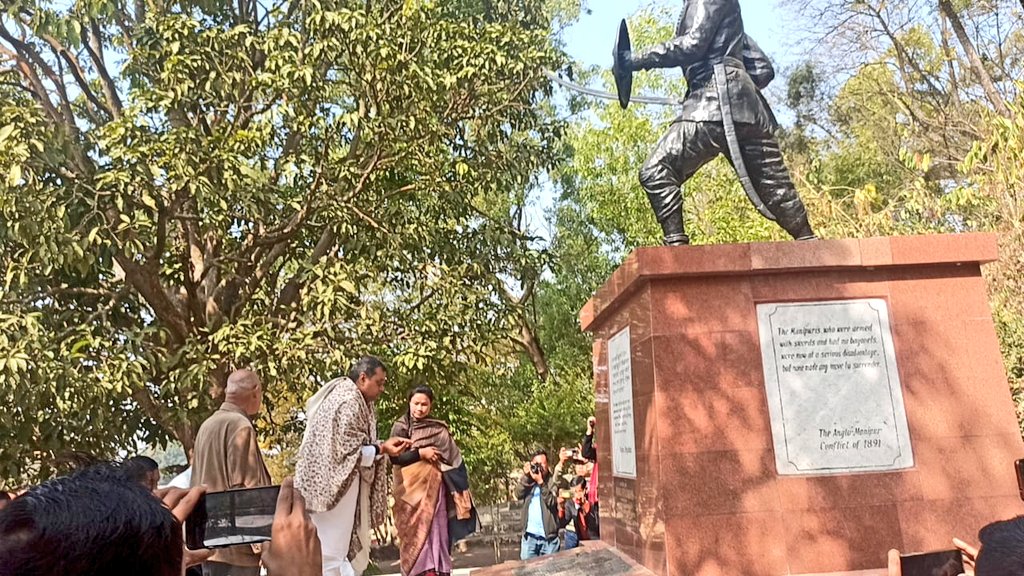 Dr Sambit Patra who is visiting Manipur to further strengthen BJP here also took part in Parakam Diwas held yesterday at INA Memorial, Moirang.
Offered floral tributes at Khongjom War Memorial which is the last battlefield of Anglo-Manipur war and paid homage to the great Manipuri warrior, along with BJP Manipur State President @STikendraBJP Ji, Org Gen Sec Sh Abhay Giri ji, Thoubal district president Sh Yumnan Ji pic.twitter.com/Drx2YtRpfN

— Sambit Patra (@sambitswaraj) January 24, 2021
The BJP spokesperson was accompanied by BJP Manipur Pradesh president Professor S Tikendra Singh, organisation general secretary Sh Abhay Giri and other office bearers and worker of the party in paying tributes to Paona Brajabashi.
A meeting was convened at a guest house at Kheba Ching to discuss strategy for strengthening the saffron party.
Before the commencement of the meeting, floral tributes were offered to the photos of expired BJP workers from Wangjing – Tentha Mandal – Sh Budhi Singh, S Rome Singh and O Gouramohon Singh.