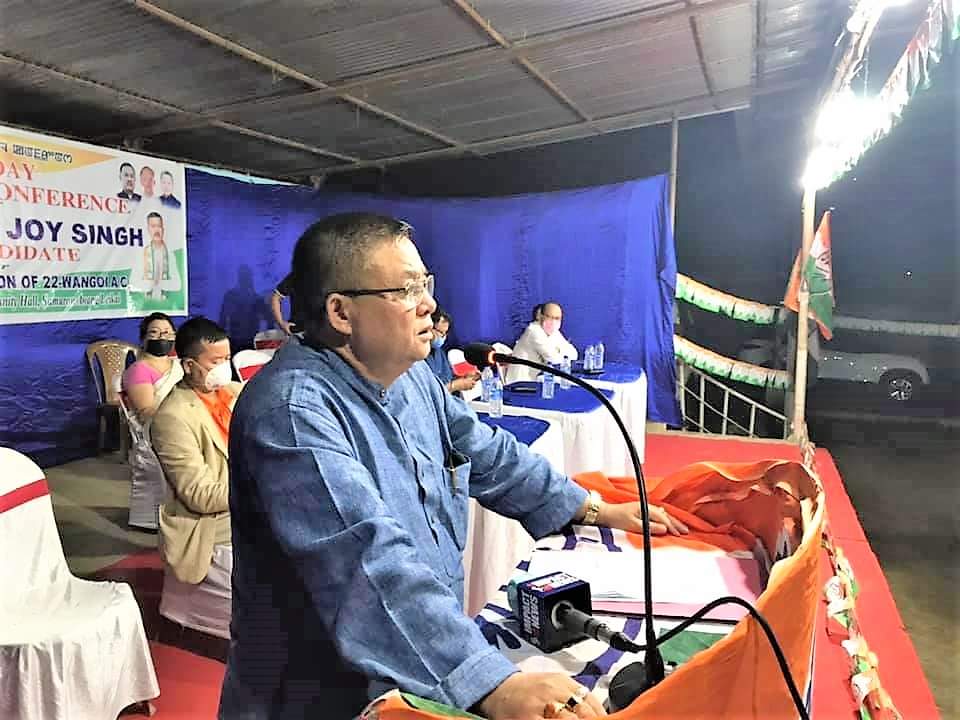 Imphal, November 02 2020: Opposition Congress heated up the campaign for the Manipur By-Polls. Congress MLA Nameirakpam Loken has appealed to the people of Wangoi constituency not to be carried away by the threatening tactics of adhoc Minister O Lukhoi, the BJP candidate for Wangoi seat.
He said, his days are being counted as Minister since the term is likely to end on November 11. He referred to him as "Adhoc Minister".
Speaking at an election rally of Congress candidate Salam Joy held at Samurou today, N Loken remarked that it is rather unfortunate if the reports of O Lukhoi threatening Government employees of Wangoi AC are true.
"If the people of Wangoi AC re-elect O Lukhoi, I would start consulting the people of Nambol AC whether I should contest future elections or not", Loken said.
He said, O Lukhoi of Wangoi, Abdul Nasir of Lilong and P Brojen of Wangjing-Tentha have been projecting the duties of MLA as forfeiture of people's shares, telling falsities and hopping from one party to another in pursuit of personal gains and power . Their act, roles and responsibilities delivered as MLAs are shameful for all other MLAs.
He also accused the Chief Minister of stationing a large number of police force at Samurou since some days back.
People had witnessed how Chief Minister N Biren went to Delhi and received the best Chief Minister's award but a closer look revealed that the sponsors of the particular award were supporters of BJP and its allies, Loken said.
Recently, a Bengaluru-based NGO published a report listing the best performing and worst performing States of the country.
The particular report listed Manipur as the worst performing State in the small State category, he pointed out.
By claiming that it has brought peace and development in the State, the BJP-led Government has been doing nothing but achieving self goal.
It is common knowledge how critics of the incumbent Government were detained and put behind bars by registering different FIRs, he continued.
Opposition Congress never made any attempt to topple the coalition Government. The Government was jolted because there was an internal conflict among BJP MLAs, said the Congress MLA Loken.
He then appealed to the people of Wangoi AC to elect Salam Joy. Congress MLAs K Govindas, Kh Joykisan and key office bearers of MPCC attended and spoke at the gathering.